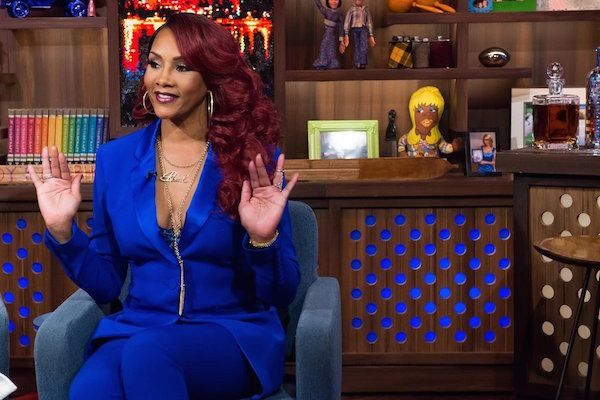 Vivica A. Fox appeared on Watch What Happens Live last night and she let it be known that ex-boyfriend 50 Cent may be gay. She was on promoting her upcoming appearance on Empire when Andy Cohen asked her "What was your thoughts when 50 Cent called the second season ratings dip on 'gay stuff?'" To which she responded: "First of all the pot calling the kettle black, is all I'm saying."
Andy asked her if she's insinuating that Fiddy is gay she threw major shade and dragged Soulja Boy into the mess. Watch it below (at the 1:25 mark):
Kandi Burrus was also on the show and the faces she made as Vivica talked, priceless.
Of course, 50 Cent and Soulja Boy took to social media to drag Vivica over her comments.
Soulja responded, "Everybody hit up this cougar..she's single & ready to mingle …1-800-GrannyDesperateForAttention extension I'mWashedUp.
Vivica later apologized to Soulja Boy but says she stands by her comments on Fiddy. "Let me say this!! Wasn't speaking about @souljaboy only my EX and his antics! I apologize for that to @souljaboy."
50 Cent posted:
Oh No!!!, Now she thinks I'm gay because I let her lick my Ass. LMAO. Wait,I didn't want her to,she forced me, my hands were tied. 50 shades of grey.

bitch remember when you told me f*ck Halle Berry and you could have played all the roles she did better then her? And I just looked at you like what the f*ck kind sh*t did you take?LMAO. #FRIGO#SMSAUDIO
Vivica responded to his comments with:
Completely lying!! Do the math people!! He did that post in 2010 we were NOT together!!! He's reaching! SMDH 🙁
And …
I'm good dawling! Trust that n I got some stories too…#IJS #Unbothered ;
This is the magazine cover Vivica was talking about and it is XXL not Vibe: